SAM DEHNE BRINGS TESLA TO RENO!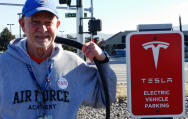 When it looked like Tesla was going "California" or "Texas" in the last inning,
EDAWN's Col KAZ called Col DEHNE in to Pinch Hit.
DEHNE hit a bases loaded Walk-Off Homer!



" THANK YOU SAM! "
(click here) (click here)




1 YEAR LATER COL KAZ THANKS SAM FOR TESLA AGAIN.
Col Kaz said: "We got to hear Sam twice. That is always exciting. 12,000 minutes (of Public Testimony).
I can image the impact on our community. Certainly the Driving Force to bring Tesla and other things."

1 YEAR ANNIVERSARY BULLETIN
NEWS BULLETIN
Subject: 1 Year Ago - August 19, 2014
1) EDAWN's Colonel Mike Kazmierski recruits legendary govt Watchdog Sam DEHNE
to try to use his mystical magic to lure Tesla away from Front-Runners Texas
and California and bring Tesla to Reno. As events would show, this astute
action by Col Kaz was critical in Tesla's final selection process.
2) Subsequent history provides evidence as to Col Kaz's keen recognition
of humble greatness and his willingness to not be influenced by the
Reno media and bureaucrats' insane fear and jealousy of DEHNE.
3) Thanks to Col Kaz, DEHNE went on to use his many years of battlefield
experience to successfully convince Tesla's Elon Musk to bypass powerhouses
Texas and California and to choose Reno for its earthshaking decision to create
a giant battery gigafactory. In Reno, Nevada!
4) Sam DEHNE: "This changes everything!"
Here is how DEHNE was able to "multiply the loaves and fishes":
http://www.renocitizen.com/tesla.htm





" THANK YOU SAM! "
(Part 10)
(click here) (click here)
765,876 - Col Kazmierski, EDAWN Prez, Thanks Sam DEHNE for being Guiding Force for Tesla to Reno
Sam DEHNE Was A Driving Force for "Tesla to Reno". He guaranteed that his honest & ubiquitous
Watchdogging would protect them from govt. But! Is Nevada paying too much for the road?
Sam DEHNE is the LEADER who brought Tesla to Reno.
Others were involved in the background.
But DEHNE was the Driving Force and the catalyst out there on the "battlefields".
(5 Sept, 2014) A statement from SAM:
I was the Driving Force and Spark for 'Tesla to Reno'.
But why are they getting $1,250,000,000 in
various Nevada taxpayer giveaways?
Tesla is already a Powerful $$$multi-billion$$$ company.
Why do they need all these breaks?
I am in favor of 'Tesla to Reno' but with a fair deal.
PS
"I will continue to be challenging the govt and media mouses.. like always."

Tesla wants honest government. DEHNE is the PROVEN unmatched genius at govt Watchdogging.
(Below are many short videos of DEHNE trying to order Reno govt to support his "Teslonean" efforts.)
(just click mouse on each picture)