Click on the picture to Watch
Sam Sing to Reno.. and to you.



"Grandma Got Run Over by Those Reindeers..."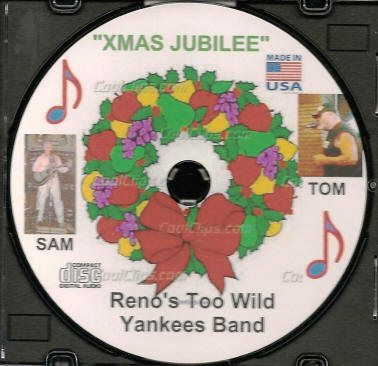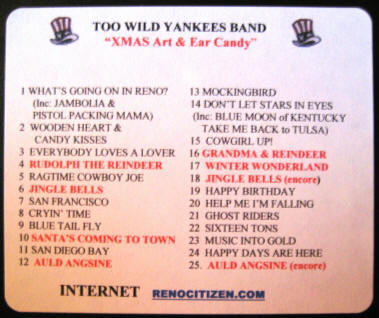 Santa's Special Music Album

"Jingle Bells, Jingle Bells, Jingle all the way..."


Internet Holiday Card - Merry Christmas (no order of importance):
ALL RTB's (USAF Academy Class '62), Judge Bill Munnell & Family, Dianne, Trudy,
Elizabeth, Chad & Hilda, Vance, Nate, Doori, Tom & Linda, All my "fans" at the Reno senior
centers, Mischelle & Greg, Jackie, George, Charles, Lance & Lisa, Larry, Giles, Ann, Denise,
Skyler, Monet, Drew, Ashley, Grant, Bonita, Joe & Ethel, Ron, Susan, Alexandra, Tony,
Santa Claus, Felix, Theresa, Susy, Lani & Sam, Ashley, Bryan, Rene, Judy & Marty, K,
Terri, Sal, Dave, Pat, Gene & Ena, Mona & Bob, Willie, Brendan, Don & Lucy (Bless their
souls), Lee, Bruce, Doris, Tony, Maurice, Luther, News & Review, Allison & Mike, Suzy,
Clyde, Roger, Melody, Senators Reid & Bryan, Mills, Mel, Congressman Gibbons & Dawn,
Senators Reid & Ensign, Frank, Frank, Doris, Martin, Jeff, Cliff, Stephanie, Aly, Delano,
Candice, Todd, Steve & Family, Chuck, Shirley, LeeAnn, Teandra, Adam & Sandy, Cindy,
Susan, Mark, Accutek, Diana, Connie, Sylvia, Gail, Alonzo, Grace, Elvis, IKE, Sylvia, Bonnie,
Sam, Hugo, Harley, Bubba, Eddie and Family, Ethel & Joe, Barbara & Bob, Linda, Karmen,
All former Pan Am workers, Jack, Fred, Rich, Deidre, Jesse, Jessi, The Air Force, Army,
Navy, Marines, Katy, Air National Guard, Dan, Dean, Marilyn & Gordon, Judy & Marty,
Carl & Helen, Bonnie, Larry, Don, Air Force Academy, Oscar, Al, Darryl, Accutek, Fred,
Jack & Caroline, Bobbie, Brian, Garth, Wayne, Jan, Association of Graduates - USAFA,
Giles, Santa Claus, Rudolph, Brian, Mike, Dewey, Lady Joy, Eric, Glen, Janice, Hard
Working Reno Employees, The Library, Mike, SNCAT, Deana, Reno City Hall Staff,
Tony, Charles Evans, Pete, Anybody left at Pan Am, Santa (Gary & Liz), Jim & Carolyn,
Scott, Trish, Lloyd, Jim, Sandy, Mary & Don, God, the World Wide Web, Guy, The Pope,
Mayor Bob Cashell, Etc, Etc.
[And by God, if I forgot you... rest assured that She wants you included here also.]
And of course, PEGGY & ED... I love you Mom and Dad - Read their
stories (click).

Our Beloved Santa Claus (Gary Ashby) passed was called to Heaven
suddenly. You can read what Sam has to say about his good
friend HERE (click).
The Staff, Guest Writers, and Editorialists of The Reno Citizen ALL SAY:
Please accept with no obligation, implied or implicit my best wishes for an
environmentally conscious, socially responsible, low stress, non-addictive,
gender neutral, celebration of the winter solstice holiday, practiced within
the most enjoyable traditions of the religious persuasion of your choice, or
secular practices of your choice, with respect for the religious/secular
persuasions and/or traditions of others, or their choice not to practice
religious or secular traditions at all?
A N D
A fiscally successful, personally fulfilling, and medically uncomplicated
recognition of the onset of the generally accepted calendar year 2000, out
not without due respect for the calendars of choice of other cultures whose
contributions to society have helped make America great, (not to imply that
America is necessarily greater than any other country or is the only
"AMERICA" in the western hemisphere,) and without regard to the race, creed,
color, age, physical ability, religious faith, or sexual preference of the
wishee.
By accepting this greeting, you are accepting these terms. This greeting is
subject to clarification or withdrawal. It is freely transferable with no
alteration to the original greeting. It implies no promise by the wisher to
actually implement any of the wishes for her/himself or others, and is void
where prohibited by law, and is revocable at the sole discretion of the
wisher.
This wish is warranted to perform as expected within the usual application of
good tidings for a period of one year, or until the issuance of a subsequent
holiday greeting, whichever comes first, and warranty is limited to
replacement of this wish or issuance of a new wish at the sole discretion of
the wisher.

This does not include holiday cheer wishes for any personnel in government who take advantage
of the citizenry... and you know who you are.
If they can clean up their acts (start asking; "Who wins, Who loses, Who pays, and What do
the people think?") by next Christmas, MAYBE they will be included in our wishes for cheer...
although such prognosis seems unlikely... in that things only got worse THIS YEAR...which is hard to
believe considering how bad things were last year!
As the faithfully ubiquitous Reno Citizen Internet Magazine heads toward the end of its 8th
Year, Sam Dehne, Dakota, Beverly Hammerheimer, Sylvia Crunch, Sylvester Mustardgeezer,
Harley Schlanger, and the rest of the Operation say:
If we left you off our Card list and you want on, or... please Email Sam (click)

You can enjoy Sam's "TV" Shows: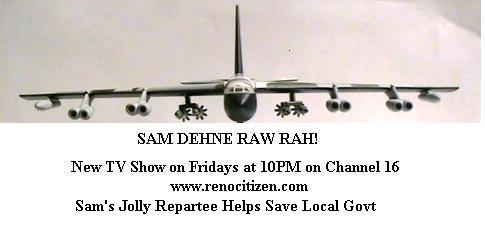 "Click" on B-52 to see some Details


"Ho Ho Ho"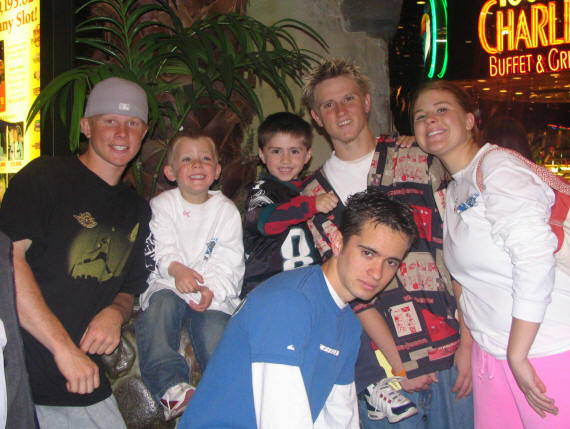 Merry Christmas from (and to) Sam's Grand Kids.