EDAWN RECRUITS SAM DNA DEHNE AGAIN.
THIS TIME TO: "SAVE THE CHILDREN!"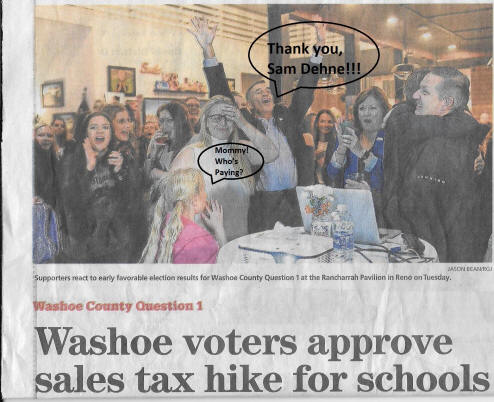 That's Col Kaz -
Cheering at the celebration party November 8, 2016
SAM WAS A DRIVING FORCE THAT BROUGHT TESLA TO RENO
(Just like he "drove" his B-52 to save America from the dirty commie pinko bastards!)


Once again EDAWN boss, Col Kazmierski is reaching out and imploring Sam Dehne to save Reno.
Col Kaz's West Point Training has taught him to recognize and not fear Sam's humble greatness when he sees it everyday.
Note: COL KAZ IS ONE OF THE VERY FEW RENO BUREAUCRATS WHO DO NOT FEAR AND ENVY SAM.



NEWS BULLETIN (9/20/16)
SCHOOLS? NEW POLL SAYS RENO CITIZENS LOOKING FORWARD TO PAYING MORE TAXES
http://www.rgj.com/story/news/education/2016/09/19/poll-55-washoe-voters-support-schools-tax-increase/90708098/
1. EDAWN can bet its frayed old $100 bills that those masterminds back east found out that legendary Guard-Angel against
media and bureaucratic bungling, Sam DEHNE, was recruited to add his brilliant reputation to this epic challenge.
2. Nobody has ever been as vociferous and vehement and Patriotic at myriad govt podiums.. Live and Extemporaneous. Nobody!
3. It canít be said enough. As RGJ media darling, EDAWN boss, Mike Kazmierski, pronounces "Thank you Sam!".
Watch: https://www.youtube.com/watch?v=NmKQIKxY_Uo
4. EDAWN RECRUITS SAM DEHNE AGAIN. THIS TIME TO: "SAVE THE CHILDREN!"
4a. Sam has more to say about Reno schools than all the other citizens added together at the Reno govt meetings. Live and exciting...
more and more every week. http://www.renocitizen.com/schoolbond.htm
5. When you watch Sam, you will plainly see that one of Sam's primary beefs is that the wrong people are being asked (propagandized)
into paying for these schools.
6. And Sam proves he can "protest" his Patriotism as well as anybody in history.
Watch: https://www.youtube.com/watch?v=AIzqE3kGgq0
PS
It is a paradoxical shame though, that the Reno/Nevada gurus, who sign the checks and pull the strings, are too scared
and jealous of Sam to let him stand up on their stages to pontificate even more about his 100s of mystical magical miraculous ideas.



Sam Talks About Schools for the Children, plus much more!
Here you can watch Col Kaz thanking Sam vociferously for Tesla..
with Patriotic Music:
" THANK YOU SAM! "
What Is It This Time?
Sam is being implored to use His Mystical Magic to multiply more Loaves and Fishes.
And change more Water into Wine.
Sam, who despises taxes, has been given the almost impossible assignment of
convincing citizens to vote in favor of a $781 Million School Bond Tax.
(actually it is an infinite never-ending tax)
Sam says, "I'm gonna try. WHY? It's for the children!"
Part of Sam's Plan is to convince Tesla and their neighbors to pay their fair share.
WHY? Because they are the main reason for the need for new schools.
[The exciting short movies of below.. of Sam talking about School Taxes.. are in reverse chronological order. (Latest First)]
PS - Sam has a pretty Up and Walking Good Habberdasher. Himself.



Sam Proves again he is greatest and bravest Guard-Angel ever. Castigates media and Tesla

Watch Sam Sing "Reno Needs Schools for the Children". Guaranteed to Pass the Tax.

Sam Dehne, Reno's Guard Angel against media mouses, says Tesla's friends should pay up.

Sam says no to no more taxes. "It's for the children".

Sam DEHNE Speaks. Tesla Listens. And Obeys! Musk, Washoe school bond tax. "It's for the Children"

Likes(856,098) Reno Children Cheer Sam As The Driving Force to get Them Safe Schools! It's for the Children".

Likes(897,098) Sam Dehne Says He Supports Schools for the Reno Children. EDAWN, Trump, Cruz

Sam Dehne talks about Perennial Perpetrators of Prevarication. "It's for the Children"

Sam Dehne Calls Reno media mouses Perennial Liars. DA and Judge Listen. "It's for the Children"
And now hear Sam take his brilliant show to Radio.. talking about the School Bond Tax on Reno Radio.
(although there is very good chance the reporter might lose his job when the bureaucrats and media mouse
cowards find out somebody had guts to let citizens hear the mighty Sam DNA Dehne.)
LISTEN (click on Sam pointing at you) -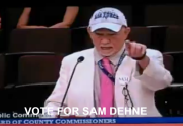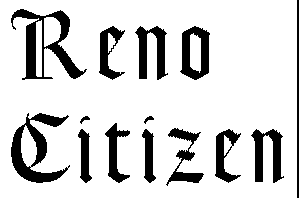 . Click Back to Reno Citizen Dot Com