Sam DNA Dehne Brings Legal Pot to Reno, Nevada on 7-1-17
Thus Sam's new TRADEMARKED-IN-NEVADA Branding
for Pot (to replace the archaic "420") is created by Sam Dehne



"7117"
"POT IS LEGAL"
by Sam DNA-DEHNE
Here's Sam's Dedicated Card that Commemorates
yet Another Monumental Achievement!!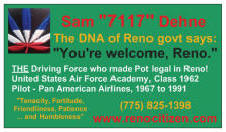 How did Retired Air Force Fighter-Bomber Sam Dehne do it virtually single-handedly?
His ubiquitous presence at myriad govt Public Comment podiums gave the entrepreneurs the
courage to proceed with their plans to open marijuana businesses. Sam was the
ONLY person to go to the meetings and publicly order the bureaucrats to get
off their buttafookoes and let the businesses flourish. They obeyed Sam's Orders.
You can see hard difficult it is for bureaucrats to NOT obey Sam's Orders by
watching him in action over and over and over; with that special tenacity that God gave him.


HERE. And HERE. And HERE, year after year, ad infinitum (click on any picture for miraculous proof)
Sam Officially began his Crusade to legalize pot in Reno more than 2 years ago..
after getting tired of watching Reno govt stonewall and postpone decisions
to allow citizens the right to use Marijuana. His persistent tenacity
resulted in Reno establishing numerous Pot Houses - all of whom owe
their businesses and livelihood to Sam.
But Reno and its cowardly prostituted media is too amazed and jealous
of Sam to publicly acknowledge his brilliant Greatness.
So Sam does it himself: "If you do it, it ain't bragging!" ~Sam Dehne

Sam DNA Dehne was A Formidable Driving Force in having MEDICAL


MARIJUANA DISPENSARIES LEGALIZED in Reno, Nevada.
Note: Sam demanded that the valuable Pot Licenses should be allocated by random lottery.
They should NOT be given as Good 'Ol boy Kickbacks to the very same hypocrites who
opposed this natural substance for decades.
A "Business" Card (above) has even been created to Commemorate the Historical Event.


Here's the Air Force Office where Sam honed his skills to become
the greatest Guard-Angel Reno has even known.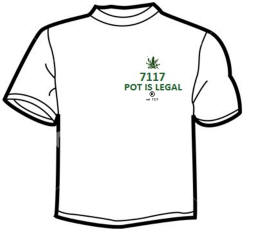 Trademark established 7 July, 2017
THE TRADEMARK: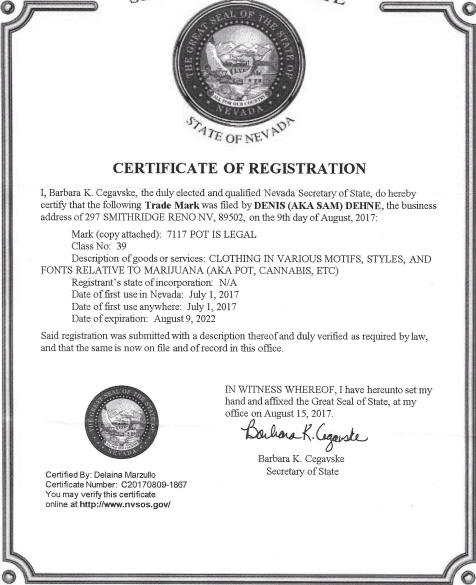 MARIJUANA Slang:
Pot.

Weed.

Grass.

420.

Doobie.

Dope.

Herb.

Joint.
Blunt.

Cannabis.

Reefer.

Mary Jane.

Buds.

Stinkweed.

Skunk.

Boom.

Blaze.
Ashes.

Block.

Boo.

Broccoli.

Burrito.

Burnie.

Charge.

AND NOW
"7117"