Sam Dehne - Raw Rah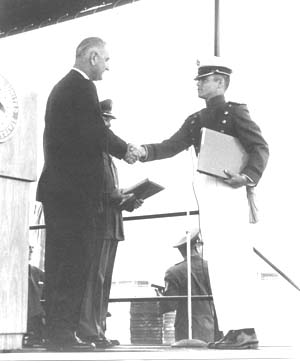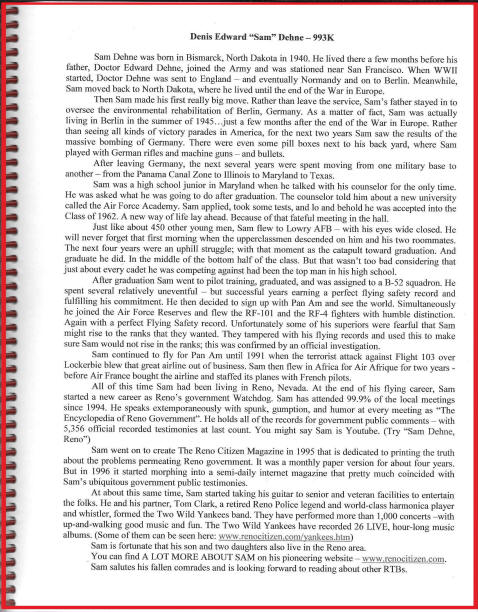 Another Look at the Story
Subject: What Itís Been Like the Last 54 (4 + 50) Years - Very Short Version
To: Air Force Academy Class of 1962 - And to the World
Brief Synopsis: In no order of importance
Father, Writer, Boxer, Fighter Pilot, Bomber Pilot, Airline Pilot, Union Leader, Orator, Govt Watchdog, Soldier/Warrior, Philosopher, Newspaper Editor and Reporter, Song Writer, Musician, Singer, Poet, " Rock Star", Television (boxing) Announcer, Television Star, Entertainer.
Sam is quirky, tenacious, fortuitous, patient, fair, feisty, tolerant... and humorous.
Oh and humble.

First here is the "Blur":
Sam Dehneís Air Force Academy years were such a blur that he doesnít know if he will be able to write much about those "good old days". But he'll try. By saying the years were a blur does not mean by any stretch of imagination that they went by fast. It seemed to take forever to "get out of there". Sam was conspicuous early on by the fact that he was just about the only RTB who didnít eat donuts. Thus avoiding "the stampede".
For some bizarre quirk of fate Sam always seemed to be "stuck" with really smart roommates. They were able to get at least 2 hours more sleep than Sam.
A few things are kind of semi-nostalgically ingrained in his memories. Two of them are boxing and drinking.
Hereís a side note that I can now divulge. I doubt that any of the guys will recall that Sam was among the missing for 14 days during the summer of 1959. I was on TDY working with some UFO investigators. This late in the game, it won't hurt to report that we had an actual contact with very intelligent ~ and peaceful ~ visitors from a planet roughly 3 light years from Earth. I canít give you their physical description, but they look close enough like us to walk among us without being recognized as space aliens. Things we learned from them were imitated in our newest, top-secret weapons. Would you believe that we could have evaporated every human being in China within 60 minutes if we had to? And without causing any physical harm to any of their military assets? And get this: If we were so inclined, we could also unevaporate them and they wouldn't realize they had ever been zapped!
In that you won't believe it anyway, I will share with you that I was able to find out that all human-like lifeforms in our galaxy are quite similar, the only differences being the number of teeth and minor stuff like that. There are no little green men in the Milky Way. Or little green women for that matter.
But I digress.
When Sam arrived at USAFA he knew how to box. As a matter of fact he was probably in the 1.5% of the class that actually liked the "sport" of pugilism.
During his sophomore and junior years he was his squadronís boxing coach. I donít remember what the record was but I think we won the team championship the latter year.
This team (not surprisingly) was made up of freshman at every weight level. Except for one upper class man; Sam.
One of Samís training techniques was to spar with each of the fighters as often as possible. And this procedure got him in such outstanding shape that on more than one occasion he fought in 2 weight divisions (139 and 147 pounds.. and once at 156) on one fight card. This was done rather than forfeit a fight when a boxer wasnít ready. And itís interesting that nobody seemed to consider it to be extraordinary.
Maybe there is a correlation to Samís boxing.. and his somewhat less than astronomical academic performance?
Hereís how Sam "learned" to drink. It was during the 3rd class summer when he was assigned to tag along with a Pilot Training Instructor. Like a lot of other RTBs did that summer. He would sit at the training table and sometimes even get to go on a flight. As we all know at the end of each day Happy Hour was a mandatory thing.
Well, Sam had not consumed alcohol before and had no idea about its effects. But he followed along with the others to the bar. And not wanting to look like an amateur he would order whatever drink he heard somebody else ordering; martini, bourbon, beer, wine, gin, etc, etc. And he wasnít counting.
As could have been predicted (if he had know the potentially dastardly effects of alcohol) he woke up the next morning feeling really lousy. And when Happy Hour was suggested after the dayís training, Sam declined. Then the next day when Sam was feeling much better (ie: over his hang over) he would go along to Happy Hour and do the same thing. This vicious cycle went on for just about the whole 2 weeks he was there.
Sam didnít figure this out until he told his high schools buddies about it during Summer Leave. Did they ever laugh. And then they taught him how.
People sometimes ask Sam how he did at USAFA. Sam simply says he graduated in the middle of his class. The middle of the bottom half that is. Accordingly, you could say that Sam barely made it through. But "barely" was pretty up and walking good when you consider he had been competing among the top graduates from about 450 different High Schools.
PS
That part about the aliens was a slight stretch.

Here is the "Aftermath": Composed in a semi-non-chronological order
(Please excuse the wandering versification. But thatís the way Samís brain sort of sometimes "works" these days. When itís working.)
After graduating 6th in his Pilot Training Class, Sam spent 3 years flying B-52 bombers at Warner Robins AFB, Georgia. Then he left Air Force active duty in 1967 to become a pilot with Pan American World Airways.
He was almost simultaneously recruited into the Air National Guard to fly the RF-101..and later the RF-4 fighter. (For many years he was the only USAFA graduate the unit had.) He had an interesting career and ended up with a multi-year perfect flying safety record; with never an accident or an incident causing injury or damage to equipment.
The first time Sam came close to combat with his new unit was when he was flying along the Korean DMZ where he and his comrades tried to lure the North Korean pilots into attacking their reconnaissance jets. This was during the "Pueblo Incident" in 1968 after Sam was called up and sent to Itazuke AFB in Japan.
In 1969 Samís unit was released from active duty, and Sam was "released" back to the greatest airline in the world, Pan Am. First he was based in San Francisco and was able to visit many places in the Orient. And then later he was based in New York and saw all of the scenes from Casa Blanca to Teheran, Rio De Janeiro and countless destinations in between.
And militarily Sam spent the ensuing Ĺ dozen years flying his fighter jet around the deserts of Nevada helping save America from the dirty rotten commie pinko bastards.
It appeared that Sam's destiny had finally arrived. (No more resumťs required...)
But in the following years some down right nasty things happened. Yeh, like nobody else suffered from stuff like that?
Sam made it to Lt Col. But that was "all". And it wasnít as easy as you might think. And he didnít get to do it the "traditional" way. (Let me try to put this with diplomacy if possible. Although it doesnít deserve it.) Starting in about 1976, unbeknown to Sam, high ranking civil service technicians in the unit developed a jealousy-driven grudge against him. In spite of Samís perfect exemplary background and perfect flying record (or maybe because of it), they began tampering with his military records behind his back. This falsifying of his records eventually caused him to be prematurely forced out of the Air Force. These sins changed everything.
Sam fought this sneaky disloyalty for many years through myriad courts. Eventually, his records were corrected and he received a much deserved retroactive promotion to Lt Col. The highest Military Court in the land, Air Force Board for Correction of Military Records, found that so many egregious acts were committed against Sam that they actually expunged 6 years from his Records. As if those years had never happened. But unfortunately, that was it. It had taken so long to get the records corrected that he couldnít get back in the Air Force.
Sam tried very hard to get this injustice corrected. He even demanded a Flight Evaluation Board. But the panel said he was too old. Even though Sam had just gone through the rigors (at age 48) of a full Air Force entry-level pilot physical with flying colors. They said there wasnít enough "usability" left.
The additional affront to the nation was that the participants in the charades were rewarded with higher ranks. Literally stealing Samís own promotions. The person who was given Samís hijacked RF-4 pilot slot parlayed that berth all the way to the Nevada governorís mansion. Coincidence? What are the chances?
This is not whining. Itís just the facts.
And then just a little while later, Pan Am was "blown" out of business, as the direct result of the dastardly terrorist bombing of flight 103 over Lockerbie in 1989. Sam's flying career had come to an end thanks to the horrific and sad demise of America's beloved Pan Am. Although he did have a short-lived flying career with Air Afrique; traveling to all sorts of exotic places on the West Coast of Africa. Places like Ouagadougou and Oukiteepoopah. But a year later Air France bought Air Afrique and replaced "expatriate" Sam Dehne with Air France pilots.
This latest debacle serendipitously started chapter 2 (or was it 3 or 4 or 5 or 6) of Samís life. He began to discover his new calling as Renoís Citizen Watchdog and Entertainer. He is so truthful and tenacious that he is known in government, bureaucratic, and media circles as the Encyclopedia of Reno government. (And a few other pseudonyms that shouldnít be repeated around women and children.)
His records of testifying semi-extemporaneously at all the local government meetings will never be broken. They belong in the Guinness Book of Records. Samís "shows" are televised by the local government channels. (There were 4,976 Testimonies at last count... but whoís counting.) And recently Sam has started converting many of them so they can be seen worldwide on Youtube. There you can plainly examine and judge for yourselves Samís savoir faire, charm, spunk, gumption, moxie, natural charisma.. and humbleness displayed uninhibitedly and unrehearsed in full sweeping spectacle for all to see. Well, itís not always a sweeping spectacle unless he has his guitar with him.
His indefatigableness and his investigatory and writing skills can be found ubiquitously in the Pioneering RENO CITIZEN (dot com) Internet Magazine that he created in 1994 and has produced and "published" for over 17 years. The Reno Citizen Magazine is a non-profit must-read (non-salaried) publication dedicated to the betterment of mankind... especially in Reno, Nevada.
One of Samís greatest "honors" is that he has never ever received an "honor" from the bureaucrats he has been Watchdogging these countless years.
Somewhere starting back in about 1970 Sam began taking his guitar on his Pan Am trips and actually was able to teach himself how to play the darn thing. Over the many ensuing years he has memorized the words, chords, and melodies of 1,347 songs (but whoís counting). And in about year 2000 (long after Pan Amís tragic demise) Sam cultivated an entertaining passion; taking his music to benefit concerts to the delight of Seniors and Veterans around the northern Nevada area. Oh, and he often takes his guitar to the government meeting podiums (a la Will Rogers with his lasso) where it is also well-received.
It was about that time that Reno Motorcycle Cop legend "Indiana" Tommy Clark hooked up with Sam and they created Renoís own Too Wild Yankees Band. Clark is a virtuoso on the harmonica and a world-class prestidigitator of puckulation (whistler). He also has a Country Western voice that Hank Williams would approve of.
At last count Sam and his little band had 26 music albums with at least 25 songs on each album. They are mostly all recorded from Live Concerts. You would only appreciate Samís music if you like rockabilly, semi-twang, toe-tapping, finger-snapping, hand-clapping, Sunday go to meeting, Gospel, swing blues music.. with a few semi-operatic falsettos mixed in.
Here are just a few songs from Samís vast fairly well-rounded memorized and extemporaneous (words, chords, melody) musical repertoire:
BLUE MOON OF KENTUCKY, JAMBOLIA, AMERICAN DREAM, YOUR CHEATIN' HEART, BABY FACE, THEY'RE ROCKIN' IN BOSTON, DIXIE, DON'T FENCE ME IN, SIOUX CITY SUE, IT'S A LONG WAY TO TIPPERARY, DON'T LET THE STARS GET IN YOUR EYES, TAKE ME BACK TO TULSA, COOL WATER, SAINTS GO MARCHING IN, PRAISE THE LORD AND PASS THE AMMUNITION, CANDY KISSES, RED SAILS IN THE SUNSET, BATTLE OF NEW ORLEANS, I LOVE PARIS, HAPPY DAYS ARE HERE AGAIN, CIGARETTES AND WHISKEY, PISTOL PACKING MAMA, TINY BUBBLES, SWING LOW SWEET CHARIOT, PLEASE HELP ME I'M FALLING, PROMISED LAND, MOCKING BIRD HILL, GHOST RIDERS, ME AND BOBBIE MAGEE, FADED LOVE, JOHN WAYNE MEDLEY, WEST VIRGINIA - COUNTRY ROADS, CASEY & THE STRAWBERRY BLONDE, PARTY DOLL, CATCH THE WIND, IRISH MEDLEY (3), TEXAS PLAYBOY RAG, WOODEN HEART, MILITARY TRIBUTE (Army, Marines, Air Force, Navy), ACHY BREAKY HEART, ROCKY TOP, BACK IN THE SADDLE, SAN ANTONIO ROSE, IT'S CRYING TIME AGAIN, LISTEN TO THE MOCKING BIRD, THEY'RE GONNA PUT ME IN THE MOVIES, ROCK OF AGES, PEACE IN THE VALLEY, ONWARD CHRISTIAN SOLDIER, 16 TONS, LUCKY OLD SUN, RUBY, MY DARLING CLEMENTINE, OH SUSSANA, COMIN' ROUND THE MOUNTAIN, ON TOP OF OLD SMOKEY, GOOD OLD SUMMERTIME, CIGARETTES AND WHISKY, BOOGIE WOOGIE BUGLE BOY, BE BOP A LULU, KAWLIGA, GOD BLESS AMERICA, MY COUNTRY 'TIS OF THEE, OH BEAUTIFUL FOR SPACIOUS SKY, STAR SPANGLED BANNER, YANKEE DOODLE DANDY, GLORY HALLELUJAH, GRAND OLD FLAG, WALKING THE FLOOR OVER YOU, WHITE SILVER SANDS, GOOD HEARTED WOMAN, LORD ITíS HARD TO BE HUMBLE SLOOP JOHN B, TAMBORINE MAN, ALL MY LOVING, RED NECK MOTHER, OKIE FROM MUSKOGEE, HONKY TONK ANGELS, RICOCHET ROMANCE, LOVE POTION # 9, CHATTANOOGA SHOE SHINE BOY, PUT A LOG ON THE FIRE, LUCILLE, ZING WENT THE STRINGS OF MY HEART, LAST TIME I SAW PARIS, THATíS AMORE, SWANEE RIVER, OLD BLACK, BEAUTIFUL DREAMER, EVERYBODY LOVES A LOVER, STORMY WEATHER, SEVEN LONELY DAYS, RUNNING BEAR, SINGING THE BLUES, RED RIVER VALLEY.. And many many many many more.
Sam was also blessed with a wonderful mother and father and sister and brother.
His Marine Corps veteran son, Chad, was the Challenger in the finals for Reno mayor in 2010. He spent very little money on the standard campaign paraphernalia like TV ads and Billboards. He had one Billboard and no TV. And local media did everything it could to avoid him. They didnít want to have to report the Truth. He ended up just a few 1,000 suspiciously missing votes away from winning the election. Reno could.. And would.. Have been different with him. In a better way.
Both of Samís daughters, Mischelle and Ashley, are Critical Care Nurses at Renoís large hospital. They have seen more death, mayhem, and carnage in their short lives than Sam saw in his military career.
Sam also cherishes his cadre of close friends.
I know that as soon as I send this I will remember a lot of other stuff. So just in case you want more, you can find the ubiquitous Sam Dehne by Googling or Youtubing him. Just go to Youtube and/or Google and type "Sam Dehne". Todayís count gives you 125,076 "hits". Or you can go directly to his pioneering (1994) website - .
You will quickly see why I like to say at the podiums:
"I did it Samís way"... or "Sam did it my way"
Make that "do".
PS
Hereís Samís epitaph:
"Self-aggrandizement is the ultimate form of flattery." ~ Sam Dehne
Or in other words; If you can do it, it ainít bragging.
All in all... life has been a pretty up and walking good journey.