........PRESS RELEASE..... PRESS RELEASE...... PRESS RELEASE

Sam Dehne, Reno's first internet newspaper publisher... and citizen watchdog... is running for Reno mayor. Sam publishes The Reno Citizen which can be found on the internet at: www.renocitizen.com

---


....................

Sam is a graduate of the United States Air Force Academy and a former Air Force officer, and pilot for Pan American Airlines. He once created a B-52 Procedure for the Air Force that has saved U.S. taxpayers more than a $$$Billion dollars ($1,000,000,000.00).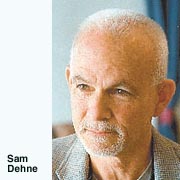 Note: This site is under construction and will be updated to coincide with announcements at future dates.