........... ...................................................
Ubiquitously Nobel Warrior
(Doctor Ed Dehne, Col U. S. Army [ret])

In 1958 an older man accompanied a younger man to college. The man who pointed the way... had a very interesting life:
He worked and boxed his way through medical school in the depression 30's.
As a young doctor, he was an Oregon County (Coos Bay) Health Officer... replacing a doctor, who later became president of UCLA, and whose path he crosses several times through the years.
He was on the D-Day beaches at Normandy and fought across Europe to Berlin, personally participating in the rescue of numerous concentration camps... with amazing details of what he saw and had to do as a doctor... and often meeting up with, coincidentally, his doctor friend mentioned above.
Immediately after the end of the war, Doctor Dehne was appointed the Chief Medical Director for the rehabilitation of war-devastated Berlin, Germany, with corresponding rank of 2 Star General. He participated directly in the creation and masterminding of the Marshall Plan... working in concert with with Generals Clay, Patton, Eisenhower, and others.



(Note: Here is what he was up against in 1945 Berlin - the family 1942 Chevrolet in the foreground.)


(Sam and his sister and mother were able to find a home in the midst of the devastating rubble.
We even had a telephone! )

He retired from the Army in 1966 after 30 years and had to make a decision to become the Medical Director of the US Space Program... or Nevada State Health Officer... choosing the latter.
After leaving the (Nevada) State Health Officer job, he joined his doctor friend (who was by then President of UCLA) to spend 6 months (as civilians) reporting on medical aspects of the Vietnam war. Living in ritzy hotels... as well as groveling with the grunts in the field during the Tet offensive.
He was THE ring doctor for virtually all boxing matches in Northern Nevada from 1970 to 1985. He was instrumental in saving boxing as a National sport during the '70s (when the American Medical Association was trying to ban these events)... lecturing incessantly to protect the boxers. His face was as familiar as Mills Lane at thousands of matches he officiated... matches that included Sugar Ray Leonard, Evander Hollyfield, Larry Holmes, numerous Cuban National boxing teams... and a veritable Whose Who of other famous pugilists and boxing teams.
During this period, he was nominated for the United Nations Population award and was among 3 finalists... that included the winner, Indira Ghandi.
Toward the end of the story, he received the Albert Schweitzer World Humanitarian Award... where he is honored in the same book with people such as Winston Churchill and Dwight Eisenhower.
On a lesser but extremely ironic note, as the Nevada State Health Officer, he was one of the first officials to try save Lake Tahoe's water. The rest of Nevada's politicos did not see the importance of his Crusade... and he was not continued as the Health Officer. Since then over a $$billion dollars has been dedicated to saving Lake Tahoe's water... including $300,000,000 pledged from the Federal Government in 2003. Congratulations! Your courageous Patriotic efforts have been validated. BUT NOT ACKNOWLEDGED AND HONORED.
SHAME ON YOU, NEVADA!
There is far far more to this epic saga...
Sam Dehne
775.825.1398
By the way, this unassuming and strongly soft-spoken doctor who "delivered" a 17 year old kid to Lowry AFB in July of 1958... to join those other 465 Class of 1962 Air Force Academy cadets...
He's my father.
NOTE:
He was my father... passing away very peacefully on 25 June, 2000.
And he was the father of a wonderful daughter, my sister, and another son (since deceased), my brother. He was also the husband of a wonderful woman my mother.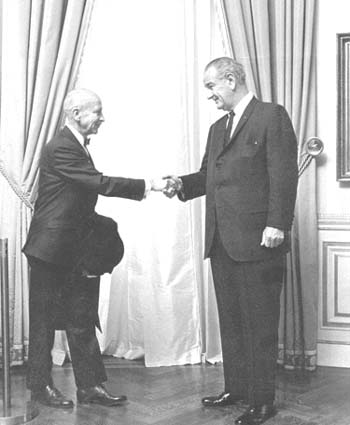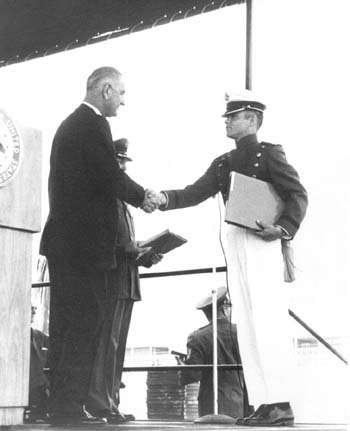 2 Generations of Dehne's shake hands with LBJ.


Doc Dehne, THE NEVADA RING DOCTOR, belongs in the Boxing Hall of Fame (click)

......................
......................................................Doctor Dehne's Etceteras
Colonel Edward James "Doc" Dehne, Husband, Father, Teacher, Humanitarian, Physician, Soldier,
Author, Diplomat passed away very peacefully on 25 June, 2000... after more than 60 years of
dedicated service to the Medical community of the World.
Doc first arrived in Nevada in 1967 when he became the Nevada State Health Officer. With one
of his top priorities being the relatively politically incorrect at the time preservation of Lake
Tahoe. This was before it was the priority it became several years later. Needless to say his
stance did not enhance his political career.
Before that he had served more than a quarter century in the U. S. Army Medical Corps,
with duties ranging from Chief Public Health Director (with the civilian rank of general) for
the post War rehabilitation of Berlin... to Commander of the U. S. Army Hygiene Agency 1954 -
1959... to Consultant to the U. S. Army Surgeon General 1959 - 1966.
Among his numerous Honors and Awards are the Legion of Merit with Oak Leaf Cluster, five
Campaign Battle Stars, Commendation Medal, and the Purple Heart. Doc Dehne also received
France's L'Order Sante Publique, Belgium's Order of Leopold, and Brazil's Pro Mundi Beneficio. He is
inscribed in over ten "Who's Who" Directories Worldwide.
These are remarkable feats for a person, who as a youngster, grew up in North Dakota and attended a
one room school house for the first several years of his education. His aspirations and tenacity
overcame this apparent obstacle, and he found his way West and graduated from Oregon University
Medical School, and later he earned his MPH and Dr PH at John Hopkins University.
The Societies to which he has belonged are too numerous to itemize here. He routinely served in some
official capacity in each of them; from president... to executive council member... to communication
advisor.
Doc Dehne learned to box as a freshman in college and had over 50 fights. Many of his opponents later
became world professional champions; while he chose to go to medical school. It was only natural then,
that in the late 1960's when boxing in Nevada was in its embryo stage, he was asked to serve as the
Ring Physician for both amateur and professional fights in northern Nevada. He was the Ring Doctor
for more fights than can be counted - at least 3,000! From the most unskilled amateurs through to
Leonard, Holmes, and Holyfield.
Doc Dehne's membership in Professional Medical Societies caused him to travel to such assorted
places as the Soviet Union (several times), Brazil, West Germany, France, Vietnam, Switzerland... to
name just a few. He was usually one of the keynote speakers at each of these events. But with all of
this traveling, he was still content when he returned to Nevada...
Even after leaving his official full-time capacity with the State of Nevada, he carried on his quest to
serve needy people to the best of his ability. He received the Albert Schweitzer World Humanitarian
Award... where he is honored in the same book with people such as Winston Churchill and Dwight
Eisenhower. His dedication toward a Global Health Policy continues in eternal memorialization.
THANKS FOR THE MEMORIES, "DOC", and God Bless You. You will be sorely missed.
Still kicking: Wife Peggy, son Sam Denis Dehne, and daughter Lani Ann Donley. Also sister Esther
Kellar, 8 grand children, and 13 great grandchildren.


---
Ed Gets Married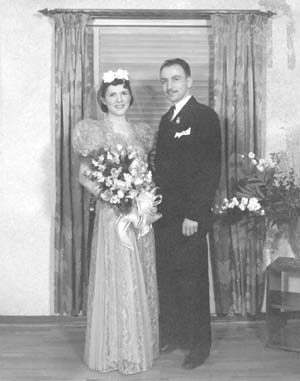 Ed and his wife Peggy



A SHORT STORY OF DOCTOR EDWARD J. DEHNE'S
LONG-TIME AFFILIATION WITH THE SPORT OF BOXING AND LIFE.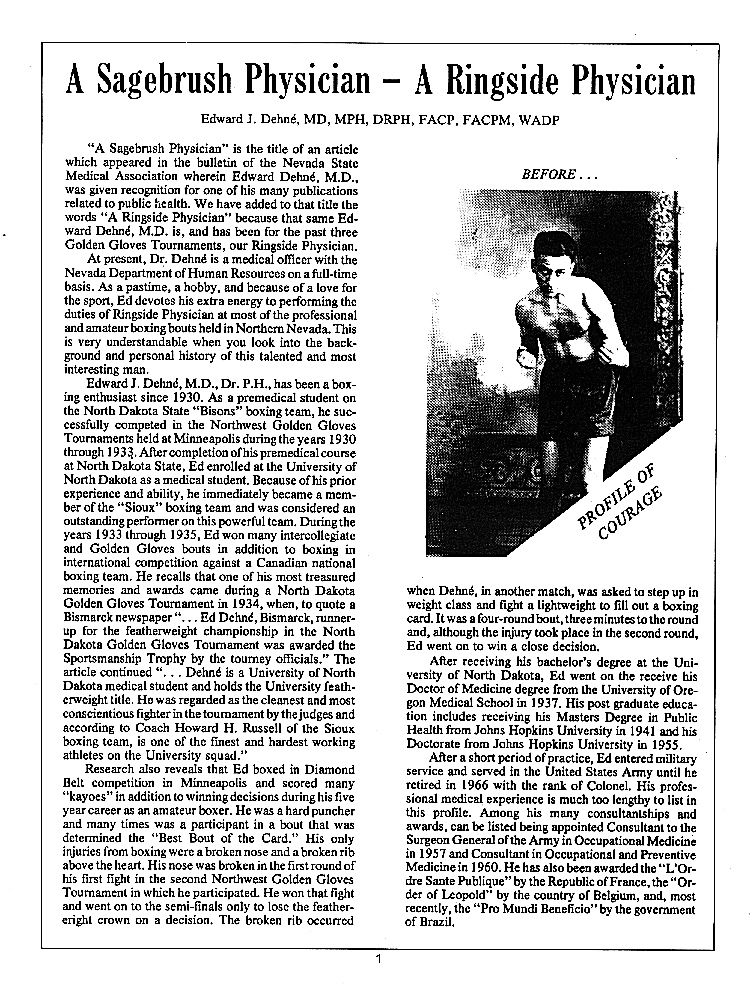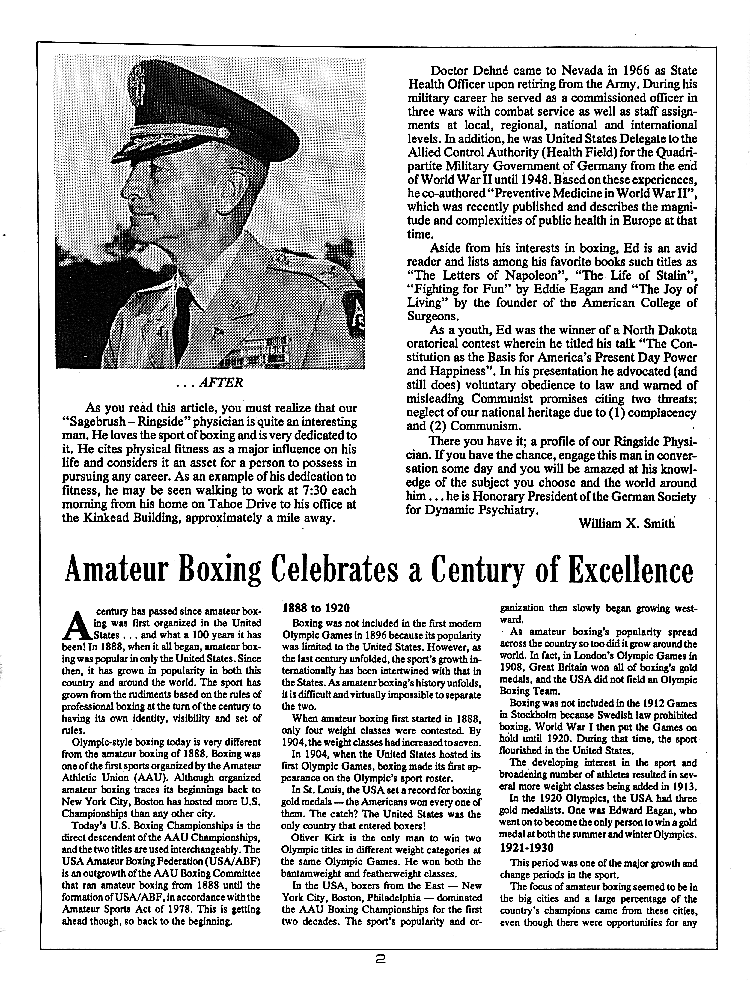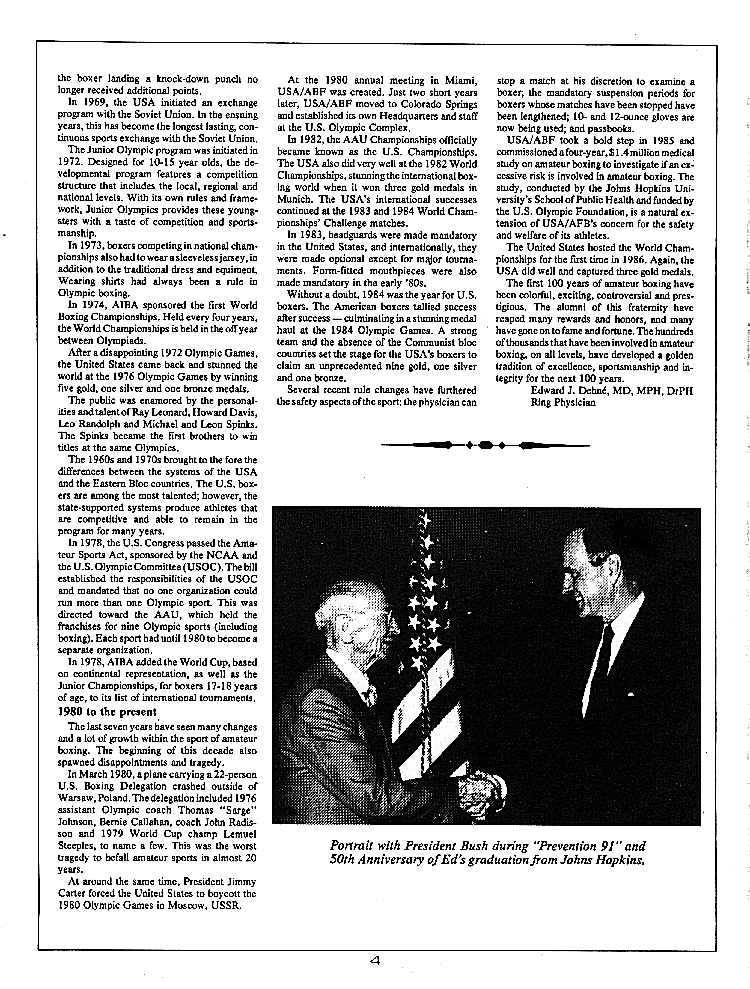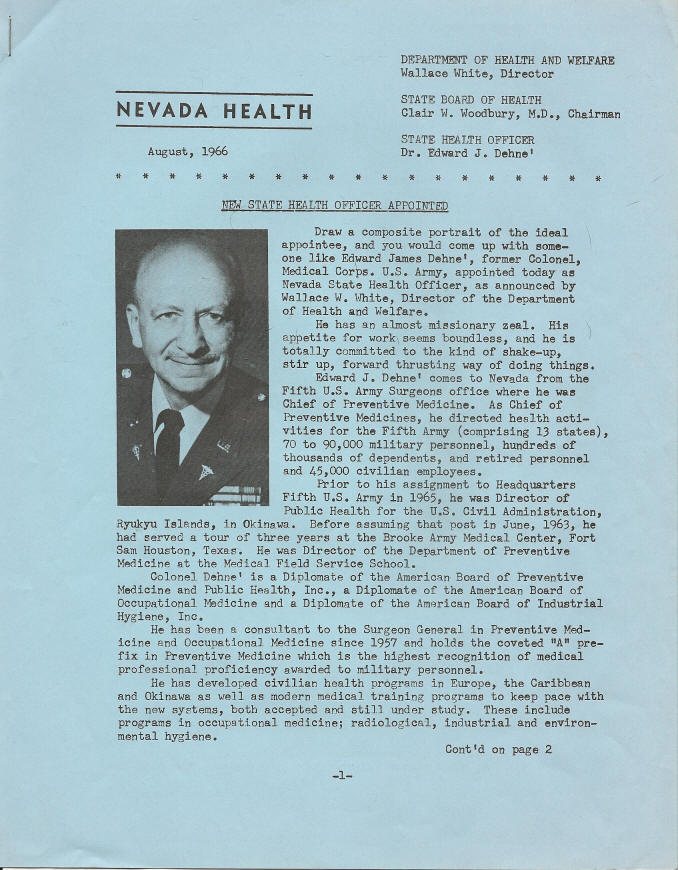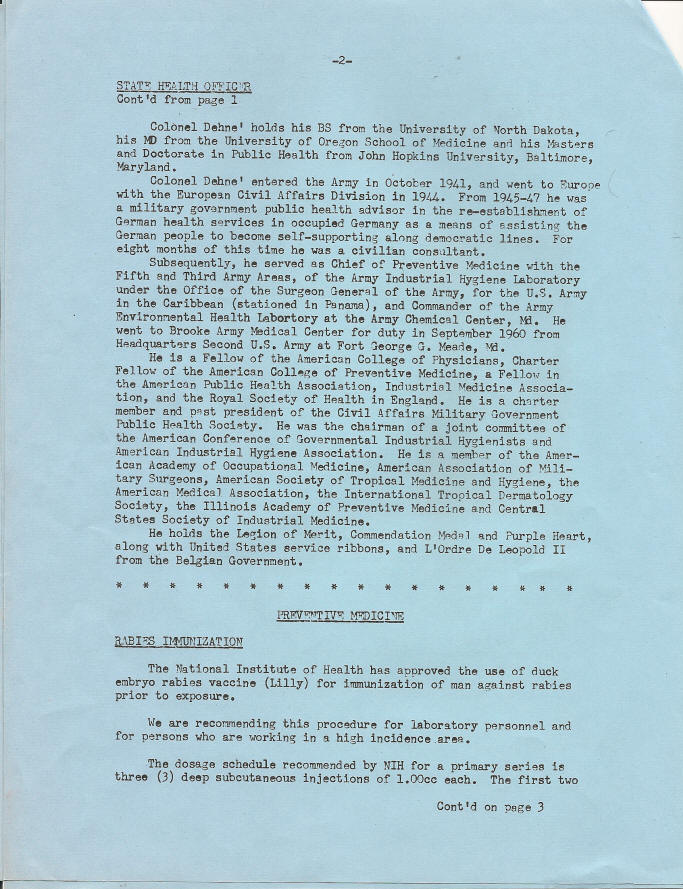 Doctor Dehne Received the Extremely Rare "Albert Schweitzer
World Humanitarian of Wisdom" Award. DESERVEDLY!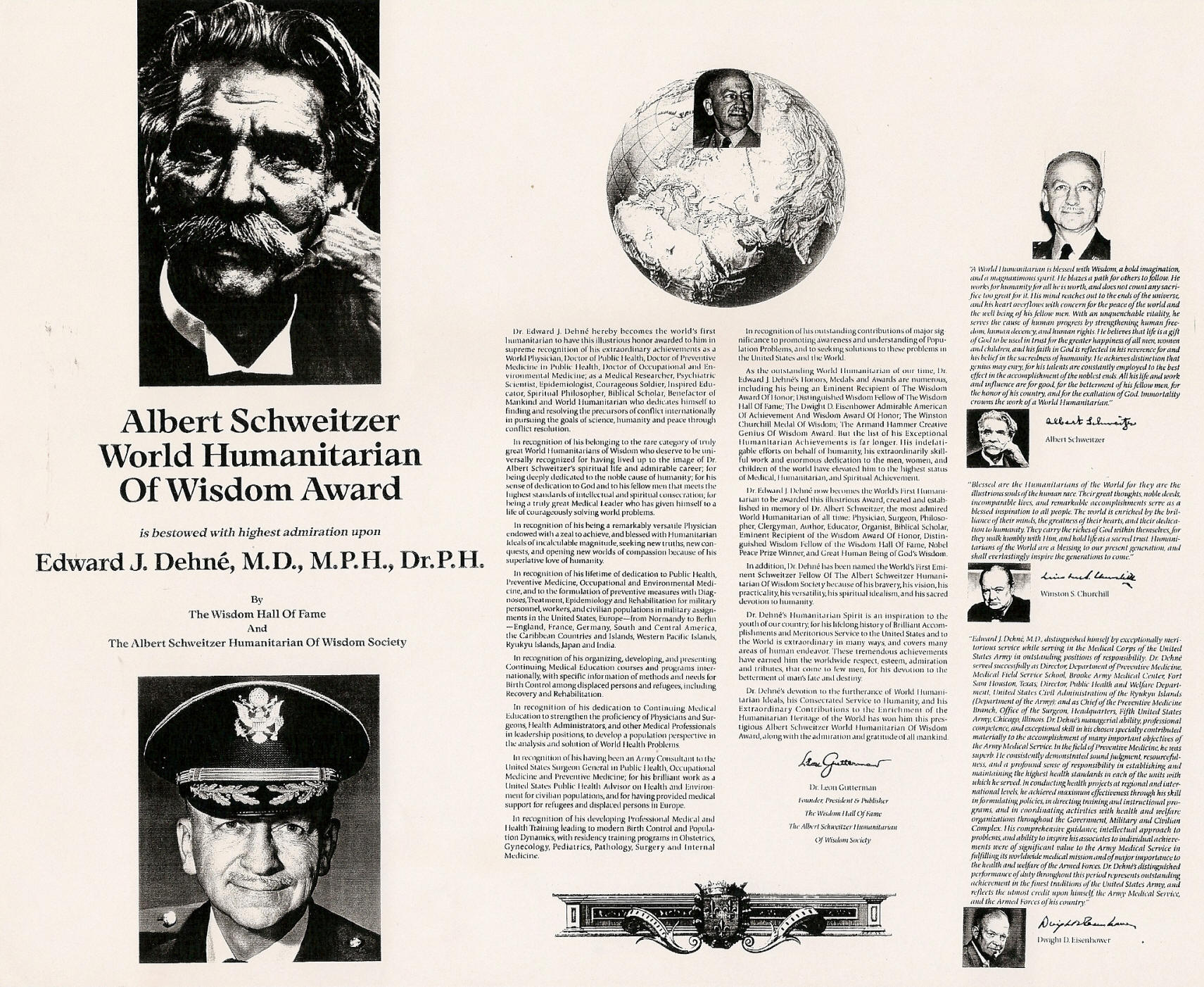 Click on picture for more readable version.
Doc DEHNE Etceteras: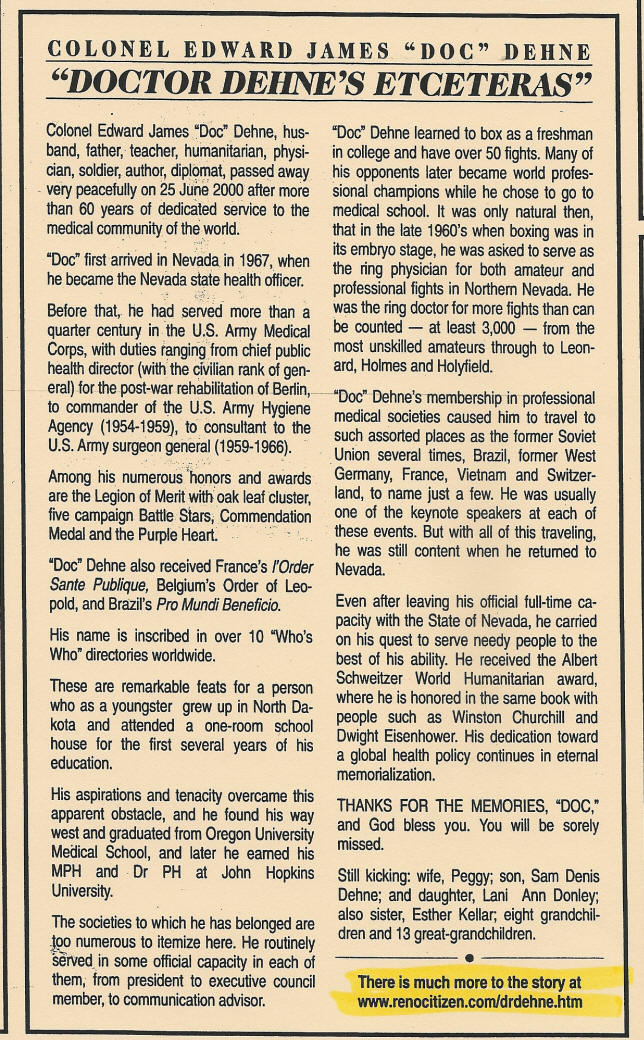 Email: You can make comments and ask questions by clicking here .